Regular price
$54.00 USD
Sale price
$54.00 USD
Unit price
per
Sale
Sold out
This is where is all began....created on the stovetop of our maker-owner Karen Mosholder, these spreads are so delicious and versatile, you'll want to make them a daily part of your life.  Stir them in coffee, spread them on toast, spoon them into oatmeal or Greek yogurt, drizzle them over popcorn or ice cream....we could go on and on!  Collection includes these 8-ounce jars:  Sea Salt Caramel, Sweet Maple, Cinnamon Stick, and Dark Chocolate.
NOTE:  We may substitute one spread for another depending upon availability this time of the year.
About our Honey Cream Spreads


Crafted by Bee and by Hand.

Our honey creams are a hit in any kitchen. Over the years, we've stirred and tested flavors that tasted of our childhoods growing up in the mountains of Western Pennsylvania–maple syrup on hotcakes, cinnamon rolls, homemade caramels, hot cocoa, pumpkin pie and more. Spread them on breakfast buns, whip them into dinner sauces, or stir them into coffee for a delectable treat!
Benefits of Honey


• Natural Sweetener

• Wide array of vitamins, minerals, amino acids and antioxidants*

• Contains polyphenols such as flavonoids and phenolic acid*

• Natural antibacterial agent often used for wound healing

• Natural humectant which helps the skin and body contain more moisture

• Wholesome sore throat soother

• Natural energy booster


Honey is a versatile and wholesome food for older children and adults. Honey may be introduced into a child's diet after the age of one, but not before.


Read more about honey and honey bees


*The amount of vitamins, minerals, amino acids, antioxidants and other nutrients in honey largely depends on the floral source of the honey. Our Honey Cream Spreads are sourced from the Wildflower Blossom.


Care & Handling


Refrigerate after opening. 
We use no preservatives in our Honey Cream Spreads.


Sustainability


All honey bottled by Bumbleberry Farms is ethically sourced in a transparent and traceable manner from known beekeepers to your table.


Shipping & Returns


Bee Happy. Guaranteed.

We offer free shipping in the continental US on all orders over $100
Share
View full details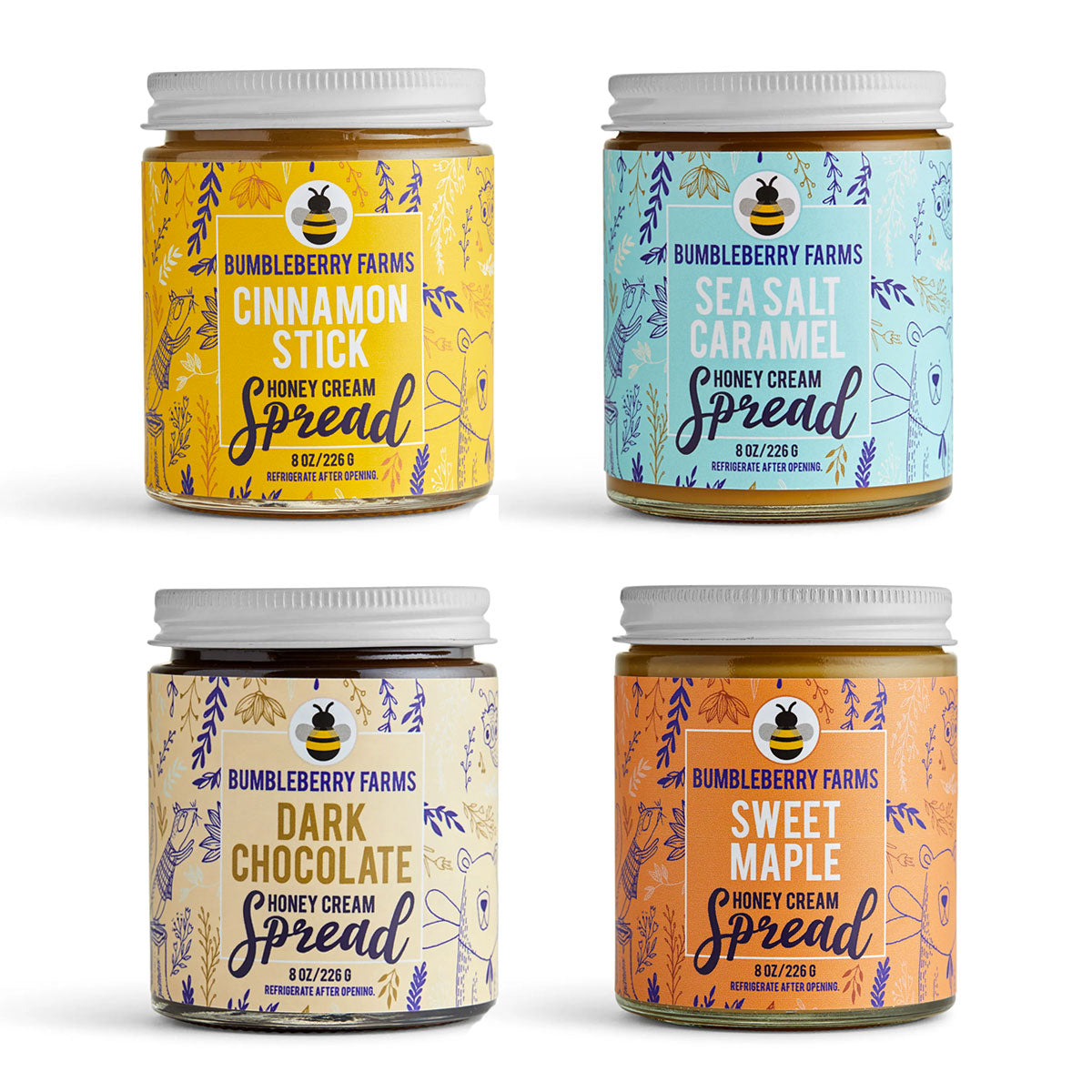 Free Shipping on orders $100+

We ship free on orders over $100 in the 48 contiguous United States. We do not currently ship internationally.


Shipping & Returns

Crafted by Bee and by Hand.

Bumbleberry Farms is a family owned and operated company in Pennsylvania. 



About Us

Dish Towel Gift Wrap

Sending a gift?  We are pleased to offer "dish towel" gift wrapping of your items for your recipient. Adding a personal note is free and dish towel gift wrap can be added for $18.00.



Learn More